ATLANTA'S #1 NAME IN SANITIZATION AND DISINFECTION
STAY SAFE WITH OUR ON-SITE SANITIZATION SERVICES
Get A Free Quote
COVID-19 ANNOUNCEMENT
During this time of crisis, we are offering deep cleaning and disinfecting services to businesses who remain open to serve the community, or facilities that are looking to have their employees return to work, and for any work environment after a confirmed case of COVID-19.
We do so using EPA registered disinfectant and electrostatic sprayers. The process uses disinfectant technology that covers all surfaces to kill germs, bacteria and viruses. Our expertise and professionalism for over a decade gives you peace of mind to safely operate your business.
CLEANING & DISINFECTING SERVICES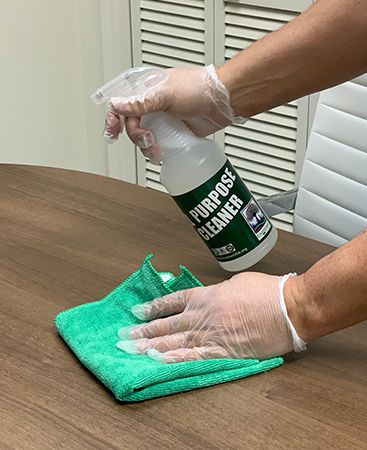 CLEAN
Using a cleaning detergent, we clean/dust all horizontal and vertical surfaces such as counters, cash registers, desks, door handles, and keyboards, floors, workstations, and any exposed item in your work environment.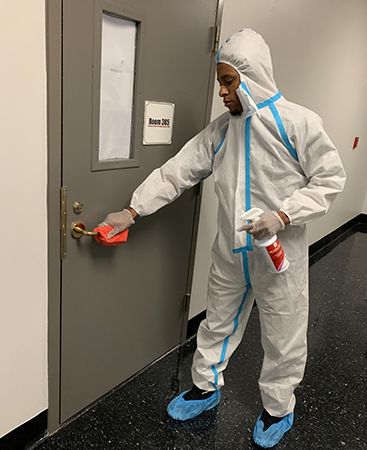 DISINFECT
Manually spray and wipe with EPA registered disinfectant and dwell in order to kill all germs, bacteria, and viruses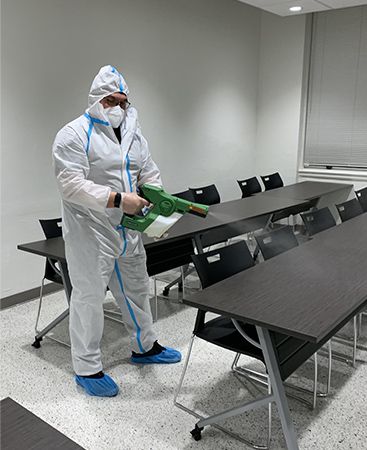 ELECTROSTATIC SPRAY
Using an electrostatic sprayer and EPA registered disinfectant, we spray all hard and soft surfaces in order to kill all germs, bacteria and viruses.
How We Can Help Your Business
Deep cleaning and disinfection of work environments that include wiping clean surfaces and then disinfecting surfaces. This service can be performed for clients that are either operational and have employees working in shared environments, like an office, warehouse, or larger facility. If your employees are working from home, we can have their office cleaned and disinfected, so when employees return to work, their work environment has been safely protected. Their peace-of-mind and confidence will be insured knowing this service was provided during these challenging times.
Enviroclean USA's Disinfection Processes in Action See What Our Happy and Safe Clients Are Saying
"Jerry, You and your team are professionals of the highest caliber. I deeply appreciate and value the service your team brings to the table. Take care and be safe!"
- Shelton N.
VP of Facilities
University System
"These guys are great. I called several different companies searching for a commercial provider of disinfecting service for our child care centers. their prices are very fair, they are not gouging their customers in this time where everyone needs these services and both times I needed their services, they were in my school the next day! Jerry always answers his phone. I never had to wait for a call back. Love that too!"
- D. Webb
Executive Director of an Atlanta Daycare Facility
5-Star Google Review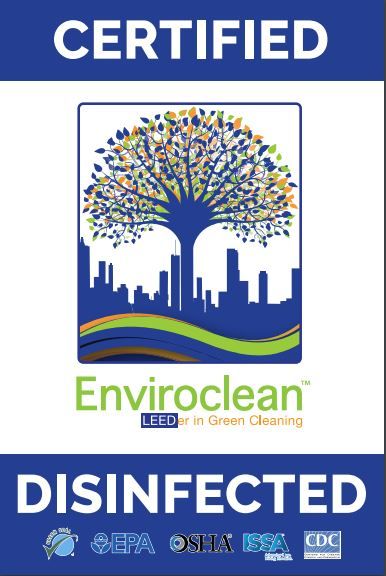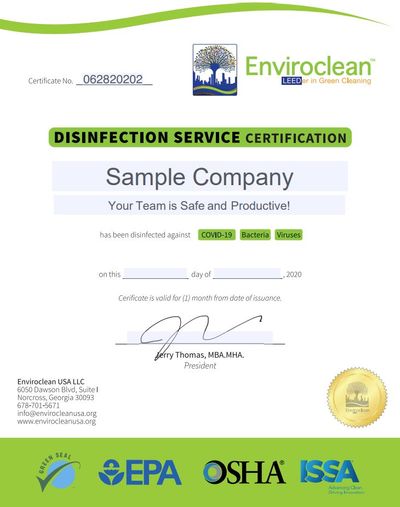 WINDOW DECALS AND DISINFECTION SERVICES CERTIFICATION
After your office has been disinfected by the professionals at Enviroclean, you will receive a window decal to proudly display to your customers and employees that they are entering a safe environment. Enviroclean also provides a 30-day guaratnee with their Disinfection Service Certification. This is a great asset to have when your facility has a positive COVID-19 case. This certification ensures your facility is safe for occupancy.
Contact Us Today To Get Started